The Unity Ribbon



Border Terrier Resource Page




Owner/Breeder Database Search



If you are new to this page,
please start here
IMPORTANT! PLEASE DON'T EMAIL ME
UNTIL YOU READ THIS!

Search for a Breeder or an Owner
to talk to about Border Terriers [temporarily unavailable]

Add your name and information to this database [temporarily unavailable]

Change or delete your information [temporarily unavailable]

Join the Lists!

Borders on the Web!

Doggy Links

Rescue Information






---
---
Borders on the Web
Some of the very best pages on the web are devoted to this marvelous breed. Additional links may be found on these pages. Please note that there have been many many pages devoted to Borders that have been developed since this page was originally started and this list is not intended to be a definitive list of personal pages, nor are these entries displayed in any significant order. I cannot guarantee the content or accuracy of any link shown, but please let me know if any of this is no longer accurate.
(This is not a comprehensive list as noted, but if you have a BT site and would like to be included, email me. Also email me if you find any broken or incorrect links.)


I rated with the Internet Content Rating Association!
---
Sign or View my Guestbook

Free Guestbooks by Bravenet.com
---



The Bad Dog Page
If you think YOUR Border is 'bad', check out what other dogs (and other pets) have done!
---
Border Terrier Live Chat!
Come join the fun with the MSN Border Terrier Community! Contact Kathy Van Barriger, the chat owner, for information, or check out MSN Groups. (NOTE: Unsure if this is still live)
---
---
This is a cartoon I love (cartoon credit: New Yorker, Jul 5, 1993, p. 61)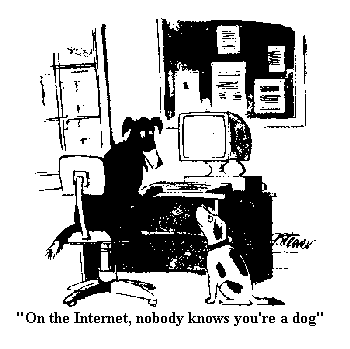 See if you can find the secret link on this page for a special treat!!
---
---
IMPORTANT!! READ THIS FIRST!
Please PLEASE do not email me for breeder recommendations or ANY other information on BT behavior issues of any kind as I am merely the list compiler. I AM NOT AN EXPERT ON BT'S AND I CANNOT HELP YOU!
Any information I have is STRICTLY from my own personal but LIMITED experience.
I apologize for the tone of this disclaimer, but unfortunately too many folks are still sending me emails asking for this kind of information, and I have to disappoint them. Hopefully the new format of this page will allow them to see this disclaimer before firing off an email to me.
Join the lists(s) and contact someone there directly if you need more information.
These pages are neither official nor all inclusive. Inclusion on this database is an entirely voluntary decision by the individuals listed and is not intended as an endorsement of or by any individual, group or organization. Contact the individuals listed for specific information about their kennels, pups, pricing, breeding philosophies or any other questions you may have. I make no representations regarding accuracy, as all information has been provided by the listed individuals themselves.
EMail me if you have any other questions
---
Return to Elaine's Personal Page
Version 3.0 - Last modified on 4/10/2006